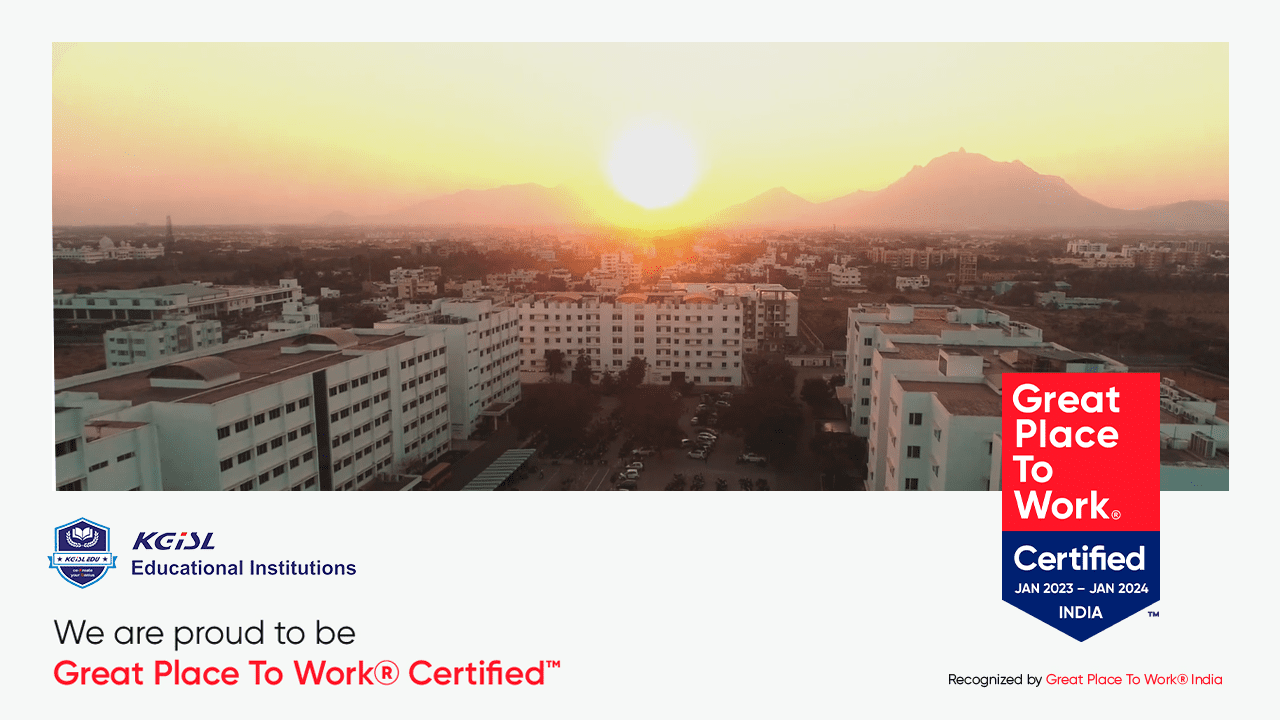 Coimbatore, 19 January 2023 – KGiSL Trust (KGiSL IIM, KGCAS, KiTE and KGiSL MicroCollege) has been Great Place To Work® Certified™ in India from Jan 2023 to Jan 2024! We have been certified as a great workplace in the mid-size organization category.
Great Place To Work® is the global authority on workplace culture. Since 1992, they have surveyed more than 100 million employees worldwide and used those deep insights to define what makes a great workplace: trust. Their employee survey platform empowers leaders with the feedback, real-time reporting, and insights they need to make strategic people decisions. The Institute serves businesses, non-profits and government agencies in more than 60 countries and has conducted pioneering research on the characteristics of great workplaces for over three decades.
"There are two reasons why I wanted to pursue this certification. Firstly, I wholeheartedly believe that top management has an unavoidable and skewed impact on the work culture. We owe it to our employees to make their experience with us worthwhile as long as they choose to be around. The second reason is that I truly believe that culture is the bedrock of execution. Without great culture, sustained execution will falter sooner than you think. The culture audit by Great Place to Work drives execution, which in turn, maximizes the value of strategy", says Dr. Ashok Bakthavathsalam, Managing Trustee of KGiSL Trust.
In India, the institute partners with more than 1400 organizations annually across over 22 industries to help them build High-Trust, High-Performance Cultures™ designed to deliver sustained business results. Hundreds of CEOs and CXOs from India Inc. are part of the great place community that is committed to the vision of making India a great place to work for all.
The Institute's research shows that great workplaces are characterized by great leadership, consistent employee experience, and sustainable financial performance. These organizations can deliver a consistent experience to all their employees irrespective of their role, gender, tenure, or level. Their leaders believe in the vision of creating and sustaining a great place to work for all and role models for all leaders.
About KGiSL Educational Institutions
Established in the year 2000, KGiSL Educational Institutions is the brainchild of Dr. Ashok Bakthavathsalam, founder and managing director of KG Information Systems Private Limited (KGiSL). KGiSL Educational Institutions, Coimbatore's number one industry-integrated campus, boasts of being the only campus that fosters co-existence between educational institutions and the industry itself. The group of institutions is situated at the heart of Information Technology in the city and thrives in the lap of a 40-acre IT-industry habitat inside the KGiSL campus, rendering an environment conducive for industry-embedded education.
KGiSL Educational Institutions has established partnerships with industry giants such as SAP and Coursera to increase offerings to all 8000 of our students and staff across all the member institutions and domains. This is aimed at transforming each learner's ability to learn, grow, succeed, and advance personally and professionally at KGiSL Institute of Technology (KiTE), KG College of Arts and Science (KGCAS), KGiSL Institute of Information Management (KGiSL IIM), and KGiSL MicroCollege (KGM).
At KGiSL Educational Institutions, the commitment to our students is to make the educational experience relevant to their careers, ensuring that each one of them is equipped with job-ready skills when they graduate. We value lifelong learning and such industry tie-ups open the door to high-quality professional development opportunities for the students and faculty members across our four member institutions.