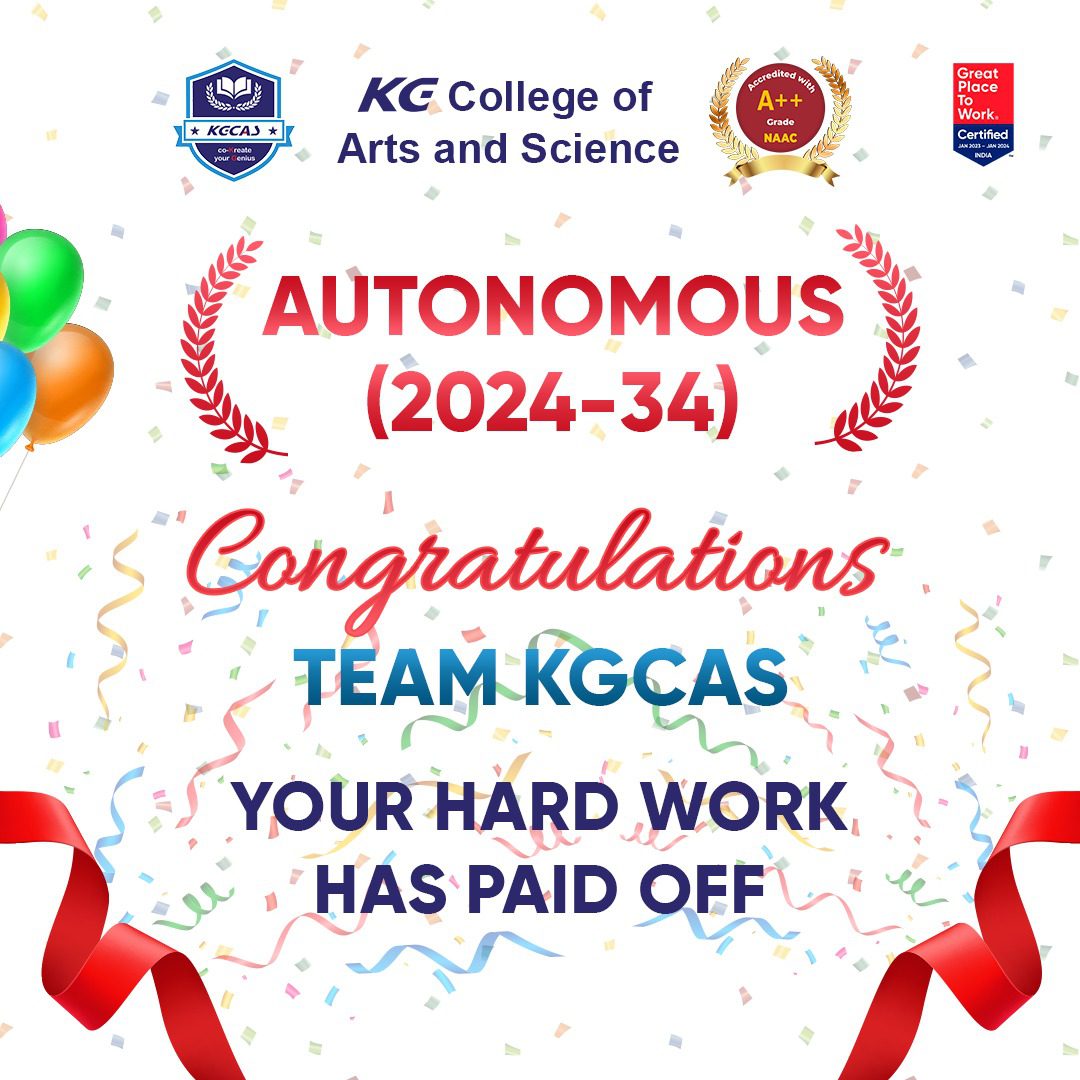 Marking the start of a new chapter in our journey as your destination of choice for higher education in arts and science.
Established in 2005, KGCAS has been providing quality education at undergraduate and postgraduate levels with a focus on the employability of students. We are an ISO 9001:2008 certified institution, accredited by the National Assessment and Accreditation Council in 2016-17. The college works on the principle of 'Campus Inside'- meaning, our students learn in an industry-cum-institute environment equipped with unparalleled infrastructural facilities. The benefit? The students learn the basics of their field at the college while also learning the ropes of the trade at the industrial set-up located within the same campus. We ensure that our students get access to industry experts, entrepreneurs, and alumni through frequent guest lectures, workshops, and seminars. Hence, it is no surprise that our students in such future-thinking programs get high-quality placement opportunities to choose from. Some of the top recruiters of our students include Amazon, Tata Consultancy Services, Infosys, Wipro, and Ugam.
Now we are starting a new chapter in our journey- the University Grants Commission has recognized us with 'autonomous' status for the period 2024 to 2034. But what does getting this recognition mean?
An autonomous college has more academic freedom than its non-autonomous counterpart. It can frame and customize its syllabus according to its priorities- for instance, one of KGCAS' priorities is industry readiness. While most college syllabuses have the unfortunate disadvantage of being outdated, autonomous colleges can update their course frameworks with the latest technologies and developments in their respective fields. Such colleges could provide students with a greater choice of elective subjects. With this, students could craft their educational profile according to their aspirations- they could specialize in certain fields or study a range of subjects to develop interdisciplinary expertise. Autonomous institutions also have more flexibility with regard to aspects like student admission, appointment of talented faculty, etc. Additionally, these institutions have freedom with regard to evaluation methodology. Autonomous colleges use the CBCS or Choice-Based Credit System to assess their students more comprehensively.
All these avenues and more are now open for KGCAS. In this decade, you can expect to see us emerge as a top destination for ambitious students seeking industry-relevant education in arts and science.